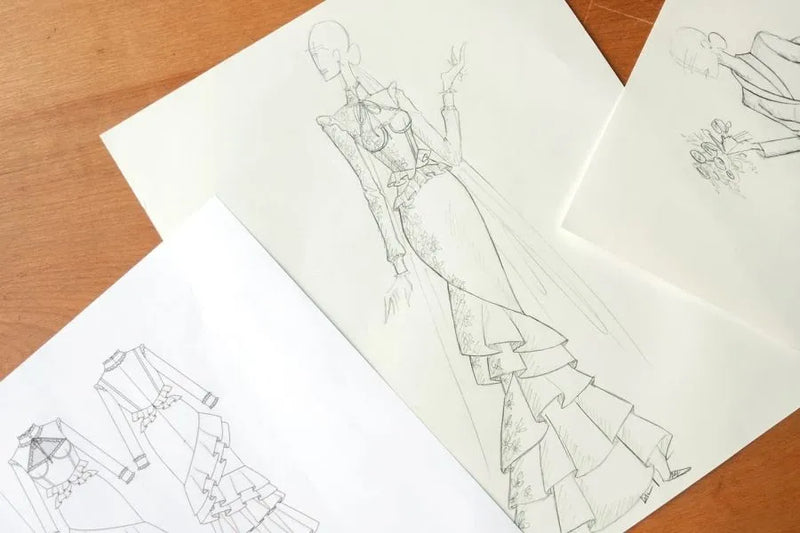 How To Draw Fashion Sketches



How To Draw Fashion Sketches: Drawing fashion sketches doesn't have to be daunting. Think of it as creating an illustration that tells a story! Whether you want to make your sketches stand out with bold lines and vivid colors, or create subtle pieces with more muted tones—it all depends on the look you're going for.
How To Draw Fashion Sketches: Getting Started!
Start by finding inspiration around you: in magazines, online, or even the people passing you by on the street. Take note of trends and study how they influence your designs. Once you've figured out what kind of sketch you want to create, grab a piece of paper, a pencil and some markers. Trace lightly if needed so that erasing is easier if needed later on. If drawing human figures intimidates you, start by drawing a mannequin—it's the perfect canvas for you to practice your sketching skills. Emphasize the body with light lines and focus on details such as buttons and pockets.
How To Draw Fashion Sketches: Add Color! 
Adding color is the next step in creating beautiful fashion sketches. Markers are often used for this purpose, as they give vibrancy to the piece. Consider which type of colors would suit your design best: cool neutral hues or popping primary shades? Either way, let your creativity run free! Layering different shades will add more depth to your sketch and make it more impactful.
How To Draw Fashion Sketches: Add Elements.
Don't forget that fashion illustration isn't only about clothes; it should also tell a story. Add elements like plants, buildings or animals to bring the sketch to life. Whether your sketches are simple and elegant, or dynamic and complex—don't be afraid to express yourself! Fashion illustration can be as creative and unique as you make it. So have fun with it and enjoy creating beautiful works of art!
 How To Draw Fashion Sketches: Final Thoughts.
Now that you know the basics, it's time to get started on drawing fashion sketches. Put your imagination into practice, create a collection of pieces, and show them off! Take pride in what you've created – after all, those designs came from within you! Who knows—maybe one day your sketches will become part of someone else's wardrobe. Let the world see how creative and talented you are, and share your work online.
Happy sketching!