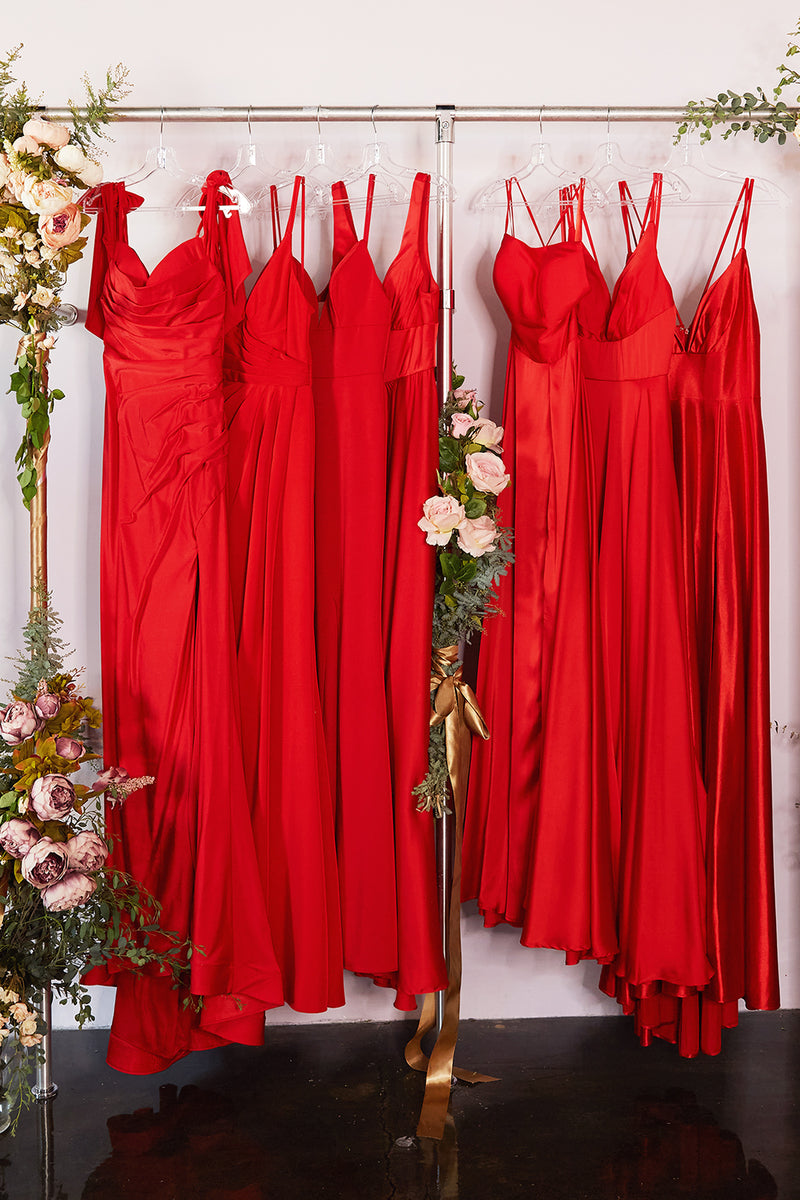 How To Pick Bridesmaid Dresses


 How To Pick Bridesmaid Dresses: A bridesmaid dress is typically a formal gown worn by the bride's attendants on her special day. The style of the dress can vary greatly, depending on the theme or season of the wedding. Generally, bridesmaids wear dresses of similar colors and styles to create a cohesive look that complements the bride and her chosen wedding gown. Brides may choose different lengths, necklines, sleeve varieties, textures, materials and colors for their bridesmaids' dresses in order to create unique combinations that capture the overall feel or aesthetic they are going for. Ultimately, no matter what type of dress is chosen it should be something that looks beautiful on each bridesmaid while also complementing the overall look of the wedding party.


When it comes to selecting the perfect bridesmaid dress, there are a lot of factors to consider. It's important to think about the theme of the wedding, the time of year, and most importantly, the personalities and styles of each bridesmaid. Here are a few tips that will help you pick out the perfect look!
How To Pick Bridesmaid Dresses: Know Your Measurements 
The first step in getting the perfect fit for your bridesmaid dress is to know your measurements. This means understanding not only what size you typically wear, but also what your bust, waist, hips, and torso measurements are. Knowing these numbers will help you find a dress that fits both your body shape and size accurately. It's also important to remember that different stores have different sizing charts; so while one store might consider you an 8 or 10 in their dresses, another might consider you a 12 or 14. Knowing your exact measurements will ensure that you choose the right size across all stores.


How To Pick Bridesmaid Dresses: Aesthetics
Choose a dress that fits in with your wedding's overall aesthetic. You want all of your bridesmaids to look cohesive but still, be able to express their individual styles at the same time. Consider whether you'd like them all in one color or if you'd prefer multiple shades for a more eclectic feel.


How To Pick Bridesmaid Dresses: Accessorize Appropriately

Accessories are key when it comes to making sure that your outfit looks complete and put together. From shoes and jewelry to purses and wraps—these details will make all the difference in how polished and stylish you look as a bridesmaid on the big day! If possible, try on different accessories with each outfit until you find one that works well with both the color of the dress and the vibe of wedding overall (i..e classic vs modern). Accessorizing appropriately can help tie any bridal party look together!


How To Pick Bridesmaid Dresses: Comfort is Queen!
Make sure everyone feels comfortable! If some of your bridesmaids aren't used to wearing dresses, opt for something more casual or choose a style that has an adjustable waistband. Think about the time of year and climate you'll be getting married in. Is it going to be hot? Opt for light fabrics like chiffon or cotton. Is it cold? Look for long-sleeved options or fabrics with heavier weights such as velvet or satin.


How To Pick Bridesmaid Dresses: Final Thoughts
Finding the perfect bridesmaid dress isn't always easy—but following these tips can help make it less stressful! Start by knowing your exact measurements so that you can accurately pick out sizes from any store; then choose styles that flatter rather than hide away your figure; match the aesthetics; keep comfort in mind; finally, accessorize accordingly! With these steps completed, you should be ready for any wedding event looking beautiful and feeling confident! 
Thank you for reading this article and I hope these tips help make the process of selecting bridesmaid dresses a bit easier for you. If you have any questions or need more advice, please don't hesitate to reach out! Good luck with planning the perfect wedding day celebration. Congratulations!
§§
You got this—happy shopping! :)
Cheers,
The Wedding Planning Team at Norma Reed.