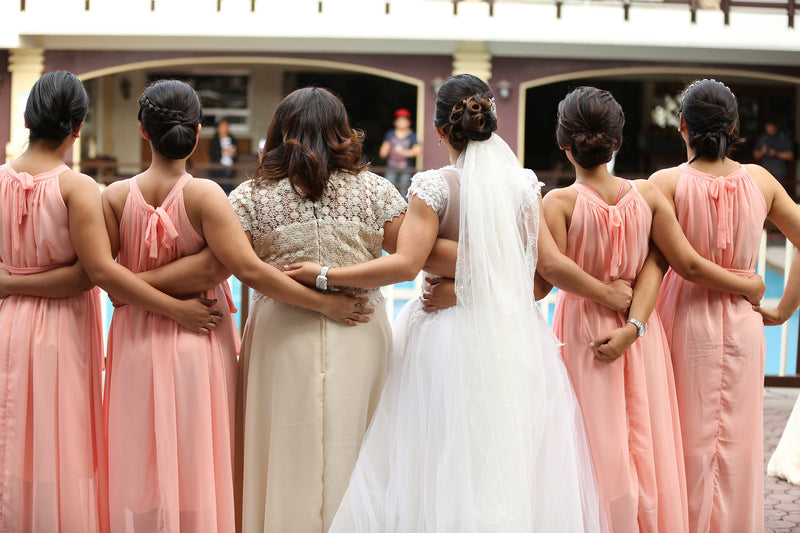 Top 10 Thoughtful Bridesmaid Gift Ideas



Top 10 thoughtful bridesmaid gift ideas: Saying "thank you" is a must when it comes to your bridesmaids. After all, they have stuck with you through thick and thin during the wedding planning process. Show them how much their support means to you by giving them a thoughtful gift that they will cherish for years to come! Here are 10 great bridesmaid gift ideas that will make your girls feel special on your big day.

1) Personalized Jewelry – A timeless classic, personalized jewelry is always a great choice for bridesmaid gifts. You can opt for something simple like a pendant necklace with your bridesmaids' initials or go for something more extravagant such as diamond earrings.

2) Customized Tote Bags – A custom tote bag with each of your bridesmaids' names embroidered on them is an extra special way to thank them for being part of your wedding day. This cute and practical gift can be used as an everyday bag or even at the bachelorette party!

3) Spa Day – If you really want to show your appreciation, give each of your bridesmaids a spa day! Not only will they get pampered and relaxed, but it's also an opportunity for all of you to spend some quality time together while having fun.

4) Monogrammed Robes – Monogrammed robes are the perfect way to give your gals a luxurious touch on the morning of the wedding. These comfy robes can also be worn after the wedding whenever they want some extra coziness!

5) Personalized Mug Set – Is there anything better than drinking coffee out of a personalized mug? Get each of your bridesmaids their own custom mug set with their name or initials printed on it! This thoughtful gift will definitely put a smile on their faces.

6) Customized Candles – Customized candles are a great way to show how much you care about each one of them individually. Choose scents that suit their personalities and write sweet messages on each one for an extra special touch!

7) Photo Albums – Create beautiful photo albums filled with memories from before and after the wedding day so that each person has something physical to remember forever. You can even include pictures from the bachelorette party or other pre-wedding festivities in these albums!

8) Bracelet Sets – Bracelet sets are always a good idea when it comes to gifts for ladies. Whether you go for delicate pearl bracelets or vibrant beaded ones, this accessory is sure to bring joy every time they wear it!

9) Engraved Compact Mirrors – Give each lady her own engraved compact mirror so she can freshen up during the reception without having to leave her seat too often. Engrave each one with her initials or name—the possibilities are endless here!

10) Embroidered Clutches - Clutches may seem like small items but they make huge statements when given as presents! Embroidering them with names, monograms, or even cute phrases makes these gifts even more sweet and meaningful.


With so many options available, finding the perfect bridesmaid gifts doesn't have to be stressful anymore! Whether you decide on personalized jewelry pieces, customized totes bags, spa days, monogrammed robes, mugs sets, candles, photo albums, bracelet sets, compacts mirrors or embroidered clutches—your girls will love any one of these thoughtful gifts from you! Show them how much their presence matters in this special moment by gifting something that reminds them just how much you care about them long after your big day is over.





Article: Top 10 Thoughtful Bridesmaid Gift ideas
Category: Top 10 Thoughtful Bridesmaid Gift Ideas